6 tips on how to survive Freshers if you're teetotal
Fresher's week is notorious for it's parties, crazy nights and heavy drinking. But, if you're not a drinker and teetotal, don't worry, you're not alone.
A few years ago, figures from the National Office of Statistics showed that adults who choose to go out without drinking rose by 40 percent, meaning one in five 16-24-year olds live their life soberly.
Whether you have never drunk alcohol before or simply fancy a night off of it, here's how to make the most of your Fresher's experience.
Prepare for reactions
The fact of the matter is that, not only during Freshers' week but probably for the rest of your life you will constantly come across people who are shocked to hear that you don't drink alcohol.
You'll get called boring for having a diet coke and come across people who want to 'cure' you of your sobriety.
You'll feel pressured to join in with the heavy drinking, but don't give in to peer pressure in order to please someone who, with the best will in the world, you will probably never see again after Freshers'.
Like clubbing? Go clubbing! 
There is often stigma around teetotallers that we don't enjoy clubbing on a night out? Wrong.
Sober students can enjoy nights out on the town just as much as those who drink, sometimes even more.
Take me for instance: when I go clubbing, everyone around me is too drunk to notice my crap dance moves, and I get to enjoy a lazy Sunday full of hangover minus the pounding headache- it's a win win.
You are still just as welcome to enjoy the pleasantries of Canterbury nightlife at bars, clubs and pubs, many of whom cater individually for dry drinkers.
For the best of the bunch, head over to Bramley's Bar where you can enjoy their Virgin Mojitos, Virgin Mary, Raspberry Lemonade or a Cucumber Martini.

Prink like everybody else
Regardless of whether you're drinking or not, you have a long night of fun ahead of you too, so make sure you get involved in getting the party started: go to pre-drinks with your friends and get hyped for the night ahead.
You'll probably find yourself acting as the overseer of prinks, dealing cards or refereeing beer pong, both of which can be surprisingly fun.
Pre-drinks is still a great way to get into the spirit of the night ahead, so don't exclude yourself on the grounds of your sobriety: nobody else will.
Live comfortably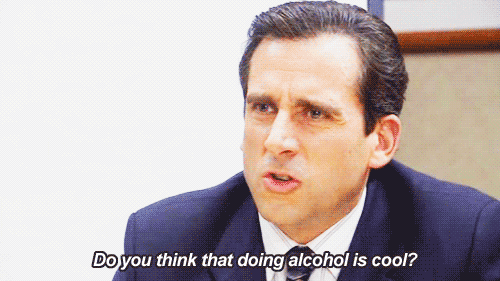 If your decision to stay away from alcohol goes beyond simply wanting to save a few pounds or remain consistently selfie ready, there's way you can avoid some peer pressure.
Some of CCCU's accommodation has alcohol-free flats are available subject to demand.
It may be too late for this year, but it's worth remembering for the years ahead, so don't be afraid to explore this as an option.
Get creative
Some people simply don't enjoy the clubbing scene, but don't feel like there's nothing for you to do instead, as there definitely is.
In Canterbury, when it comes to entertainment and activities, you are spoilt for choice.
Pick up a bite to eat at one of Canterbury's many bars, cafes or restaurants, or visit one of its multiple cinemas or the Marlowe Theatre, where you can often see ex-West end productions for a fraction of the original price.
With sobriety on the rise, it's time for more options to be given to us teetotallers.
Be the person to arrange alcohol-free FUN events like dry raves or sober socials, and you will literally be changing the course of student history in the process.
Do you
My final and most important tip is to be unequivocally, unmistakably and unapologetically YOU. Be confident and proud of your drinking preference, whatever choice you make, and be sure that you are making these choices for the right reasons.
As a non-drinker, you should never feel as if you must provide an excuse or a reason as to why you don't drink, to someone who is simply too smallminded to understand. Do not be made to feel belittled or insecure by your choice.
True friends and genuine people will always support you in your decision, now go enjoy your Fresher's week.
For most Freshers, CCCU Welcome Week 2017 officially takes place from 18th– 22nd September, but events span from 16th-23rd, click here for more info and keep your eye on social media for all you need to know about Freshers' Week.